Mark A. Fankhauser
Partner
Areas of Concentration
Estate Planning
Exempt Organizations
Probate and Estate Administration
Qualified Attorney/Mediator
Will Contests and Fiduciary Litigation
Experience
Mr. Fankhauser practices in the areas of estate planning, probate and general tax matters. His practice has involved all aspects of estate planning, including planning for both large and small estates, life insurance trusts, charitable lead and remainder trusts, generation-skipping tax planning, family limited partnerships and the use of other family wealth maximization techniques. His probate and trust experience includes advice with respect to the administration of large estates and trusts, post-mortem tax planning, preparation of estate tax returns, controversies with the Internal Revenue Service, will contests and will construction suits, and the litigation and settlement of complex estate and trust matters. Mr. Fankhauser is a qualified attorney mediator and mediates exclusively in the area of will contests, and trust and estate controversies.
Mr. Fankhauser also has significant experience in the representation of tax-exempt charitable organizations and state university systems. This area of his practice includes rendering advice with respect to obtaining and retaining tax-exempt status, application of the private foundation rules, unrelated business income tax issues, charitable giving income tax rules and deferred giving techniques.
Professional Activities and Memberships
Dallas Bar Association (Council Member, Probate, Trusts and Estates Section, 1990-1992)
State Bar of Texas (Chairman, Estate and Inheritance Tax Committee, 1989-1991)
Texas Board of Legal Specialization, Board Certified, Estate Planning and Probate Law
Texas Bar Foundation (Fellow)
Dallas Estate Planning Council (Member, Board of Governors, 1994-1996)
Gulf States Area IRS TE/GE Advisory Council
American College of Trust and Estate Counsel (Fellow)
Association of Attorney-Mediators
Educational Background
Harvard Law School, 1978, J.D., cum laude
Pittsburg State University, 1974, B.A.
Civic Involvement
American Heart Association, Dallas Division, Member, Board of Directors (1997-2005; Chairman, 2000-2001)
American Heart Association, Texas Affiliate, Member, Board of Directors (2002-2003)
Communities Foundation of Texas, Inc., Member, Advisory Council
Pittsburg State University Alumni Association, Past President, Dallas/Fort Worth Chapter
Military Service
Mr. Fankhauser served in the U.S. Air Force from 1971-1973 and in the Missouri and New Hampshire Air National Guard from 1973-1977.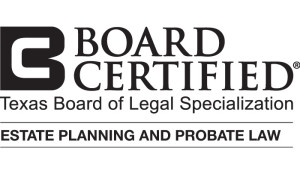 Named to The Best Lawyers in America® 2019
by Woodward/White Inc.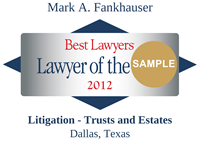 Named to The Best Lawyers in America® 2012
by Woodward/White Inc.